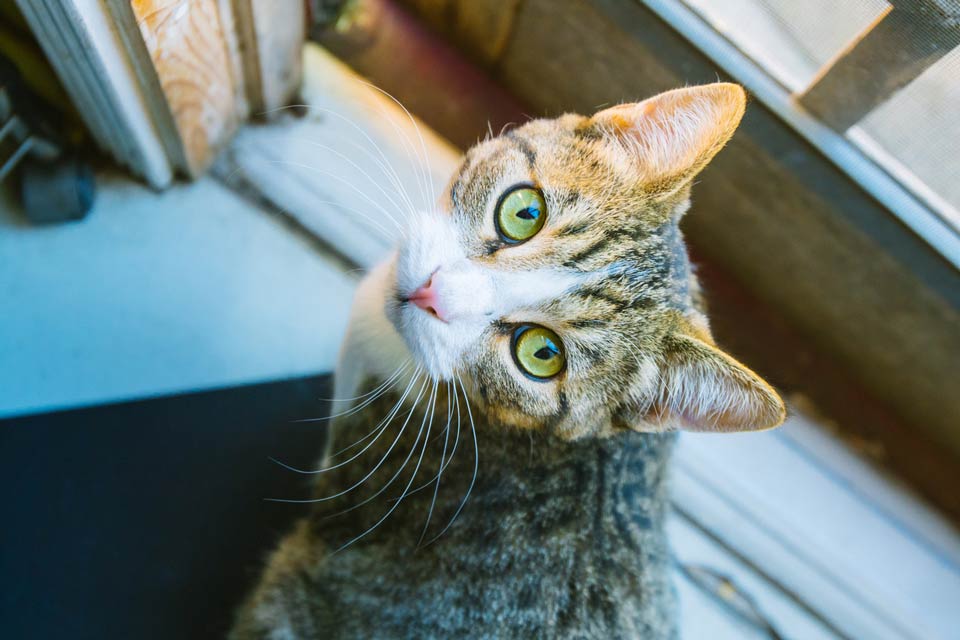 Have you heard of a catio? It's an enclosed outdoor space that keeps your cat from escaping and also keeps dangers out. It might be a great alternative to letting your cat go outside.
Why Shouldn't Cats Go Outside?
Going outside is dangerous for cats, and outdoor cats have shorter life spans in general than indoor cats do. Some of the dangers that make going outside treacherous for cats include:
Other territorial cats
Wild animals
Dogs
Cars
Feline infectious diseases like FIV
Parasites
Getting lost
Being picked up by well-meaning strangers
Also, outdoor cats can create problems between neighbors when a kitty is urinating or defecating on items or in flower gardens or when they are negatively affecting the local bird population.
But What If Your Cat Loves Going Outside?
Many cats love going outside, and it can be a difficult transition to get them used to staying in. In fact, it can cause stress and its related negative behaviors like scratching or urinating inappropriately. Still, there are ways to ease the transition so your cat will be happy inside where he's safer. Here are some things to do:
Make your home a cat paradise. Increase the number of good quality scratching posts in your home. Get lots of wand toys and commit to playing with your cat for 5-10 minutes 3 times a day. Have a litter box on every floor of your home, make sure you have at least as many as you have cats plus one, and keep them meticulously clean. Consider getting a water fountain, so your cat has access to flowing water, which many cats love.
Consider adding another cat. If you have a single cat home and you'd like to transition that cat to staying in full-time, consider whether getting a second cat might help. Of course, you need to take care with this decision. If your cat has shown aggression toward other cats, it might not be a good idea, but many times, adding a feline friend can help a cat adjust to indoor-only life.
Feed your cat inside. Give treats for coming inside. If you currently feed your cat outside, begin doing so inside. Give your kitty a treat when he comes in from outside. These things can start building positive associations with the home.
Provide high spots for your cat indoors. Cats love being up high and watching things go on below them. Provide nice tall cat trees or catwalks bolted securely to your walls for your cat.
Grow some cat grass or catnip. These can give your cat something to graze on and bring the outdoors in. Plus, it's safer than when your cat munches on grass outside, which might have chemicals on it.
You can make the transition slowly or abruptly. Give some thought before you begin as to which you think would work better for you and your cat. Sometimes slowly keeping them inside more works because they don't notice the transition as much. Other times, making the change quickly works best.
You can also try to teach your cat to walk on a harness and leash. Start by getting him used to wearing the harness inside under your supervision for short times. Then attach the leash and practice. If he's doing well, take him outside for short periods. This can be an excellent alternative to going out unsupervised for many cats, and it also helps bond the two of you.
How Can a Catio Help Keep Your Cat Inside?
A catio is an outside enclosure for a cat. It's a cat patio! You can build one yourself or buy one. They can fit almost any space that you have to work with. Here are some of the things to think about and look for when you are designing and building or buying a catio:
How big you need it to be. How many cats do you have who will use it? Try to have enough room for scratching posts, food and water, cat beds, and a litter box.
What building material you want to use. It needs to be safe and sturdy. No sharp edges or mesh that can be shredded and escaped from. It also needs to be sturdy. If you are building a floor into the catio rather than using an existing deck or porch floor, be sure it can hold the weight of a person who might need to go in there and clean up.
How you want to handle drainage. Give some thought to all of the weather conditions your catio will need to be able to handle. You will need to think about water drainage, for instance.
How it will attach to the house. A catio works wonderfully if a cat can go in and out as he pleases rather than waiting for you to carry him out to it. Because of that, many people think of ways to attach them to an opening in their home. Some people use windows or door walls. If you do that, be sure the material that surrounds your catio will keep bugs out. Consider building the catio around a doggie door, which will allow your cat to go in and out at will.
A catio can be a great way to keep a cat happy while making sure he's safe from dangers that exist outside.
Disclaimer: This website is not intended to replace professional consultation, diagnosis, or treatment by a licensed veterinarian. If you require any veterinary related advice, contact your veterinarian promptly. Information at CatScratching.com is exclusively of a general reference nature. Do not disregard veterinary advice or delay treatment as a result of accessing information at this site.